WILD FOOD FESTIVAL 2023
रान भाज्या मोहत्सव
Forest On Your Plate
Regular price

Rs. 1,250.00

Regular price

Sale price

Rs. 1,250.00
DATE

Sunday, 27th August 2023

TIME

2:30 PM to 10 PM

WHERE

Don Bosco College,
D - Wing, Premier Automobiles Road,
Near Kohinoor Mall, Kurla (W), Mumbai - 70
Map:
https://goo.gl/maps/8o9DBnUqXrQMqxQm7

INCLUDES

1) Whole Event
A) Display Of Wild Vegetables & Seed Bank
B) Session By Domain Experts
C) Tasting of Cooked Wild Vegetables
D) Dinner
2) Cultural Program 

EXCLUDES: 

Any Kind of Transport & Anything not mentioned Above

GET IN TOUCH

Phone:
+91 9727712345

Email:
ask@ooofarms.com
Attention Culinary Students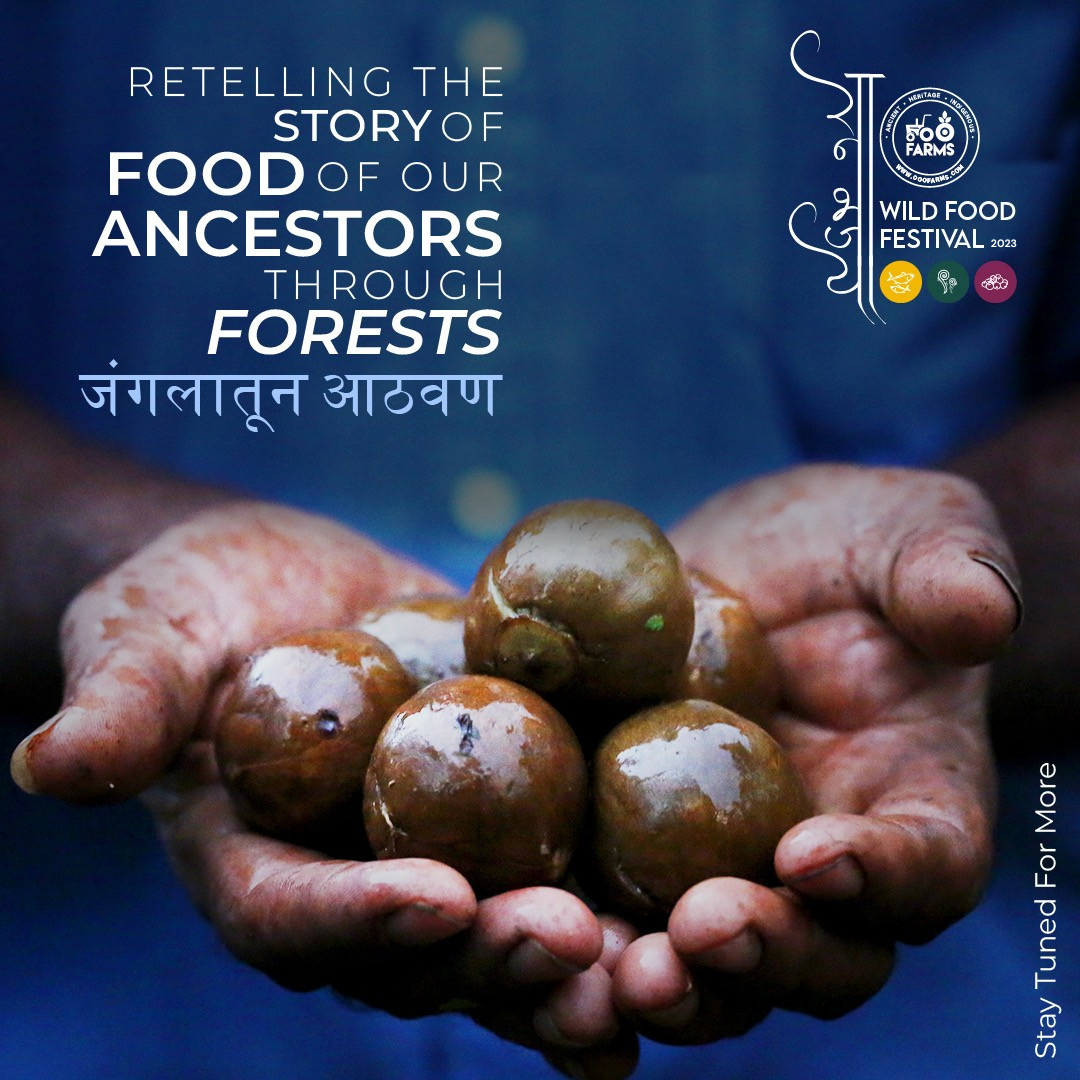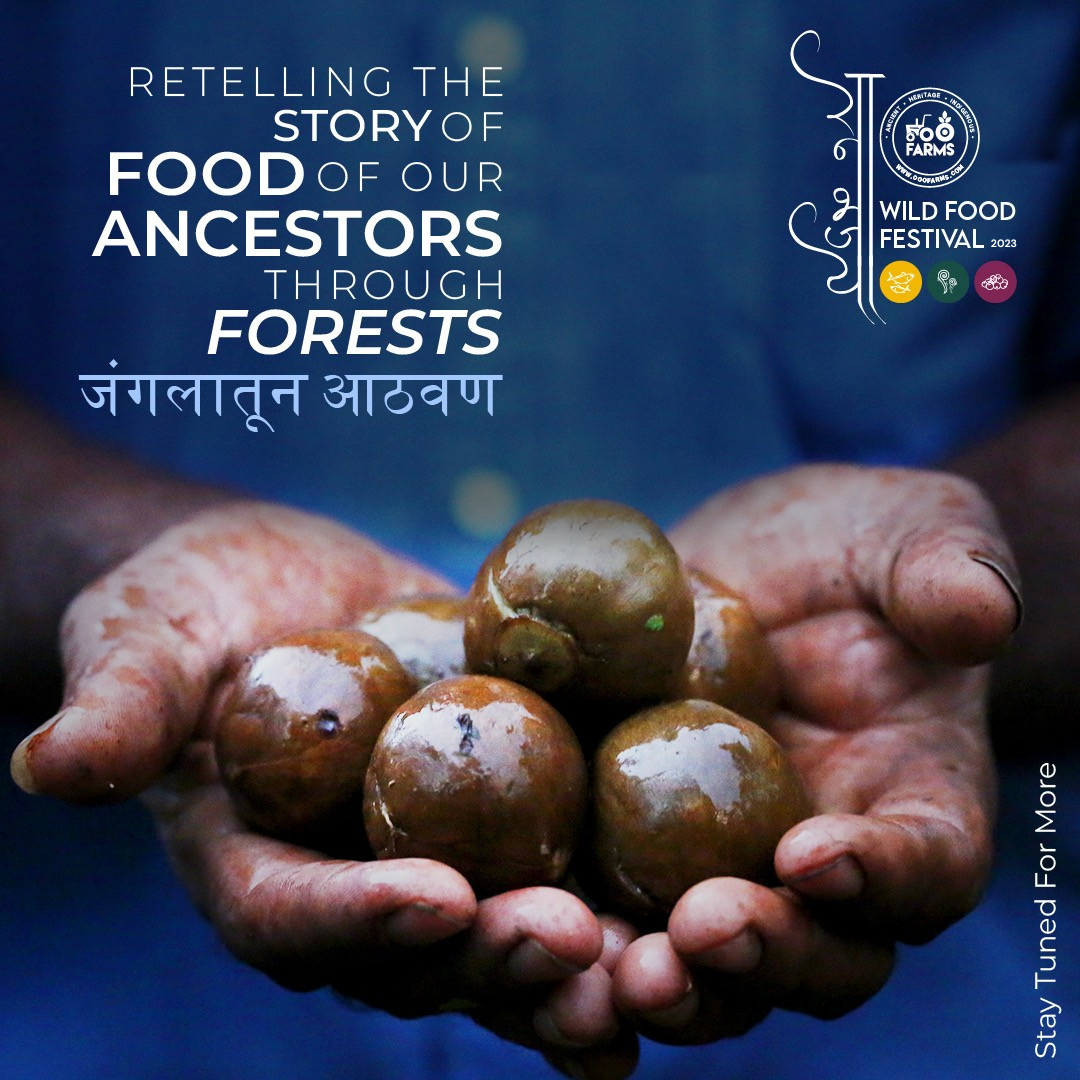 Wild Food Festival 2023
Savour indigenous varieties of vegetables found in Maharashtra's forests, and tap into a conversation on food security at the Wild Food Festival.
Highlights of the Event
Display Of 120-200 Wild Vegetables & Edibles
Display Of OOO Farms Community Seed Bank
Tasting of 25 to 40 Wild Edibles & Snack-Wild Tea (Uncultivated) on a Single Plate straight from the Jungles
Cultural Program by Tribals of Maharashtra (Art Show #Warli & #Tarpa)
Eminent Speakers & Domain Experts Addressing Wild Foods, Current Situation of Farm & Farmers
Question & Answer Time (Interactive Session Including Everyone)
Mountain Cusines (A Part of Forest on the Plate) for Dinner Cooked by Tribal Farmers from Maharashtra
Great Opportunity to Taste 40 Plus Wild Edible Vegetables Straight from the Jungles
6 Special Recipes of Mahua Flower (Kalpavruksha of #Tribals)
Your Yummy Dinner also Consists of a Part of Forest on the Plate
Recipes Of Wild Vegetables
This WILD FOOD FESTIVAL is For Everyone Irrespective of All Age Groups
The Focus of this Wild Food Festival is not Just to Eat Lunch or Showcase a Market for Wild Produce from Jungles, but also to Throw Light and Direction Towards Food Security & Nutrition Security of our Country. It is a Step to avoid India from Going Nutrition Deficient.
There are more than 200  #Vegetables,  #Tubers  &  Roots which are grown within the radius of 100 kms of our very own Mumbai city.....Mumbai City which is used to hearing Aaloo, Gavar, Bhendi, Fansi, Gajar, Kobi, Flower... & to add to it we have started being comfortable with Zucchini, Broccoli, Asparagus, Bokchoy, Celery, & some more.
Aren't we getting carried away with Marketing done by Billion Dollar food Industry on What to Eat? & How to Eat?...Oats, Quinoa, Chia to name a few have come out of it. We have Survived over 10,000 Years on our Locally grown food and food foraged from the Forests. Then why has it Disappeared now ?
Organized by OOO Farms in Collaboration with The Locavore and Don Bosco College
The OOO Farms' Wild Food Festival is a vibrant celebration of tribal culture and indigenous wild foods found in Maharashtra during monsoons. This unique event brings together city-dwellers, adivasi communities (such as Kokni, Warli, Mahadeo Koli, Katkari and Bhil) and domain experts to spotlight Maharashtra's rich natural biodiversity and the resulting culinary heritage and the communities that play a vital role in preserving these traditional foods. 

The OOO Farms' Wild Food Festival is hosted in collaboration with The Locavore, an organization committed to creating lasting impact and championing a local, Indian food movement headed by Chef Thomas Zacharias. The Locavore has actively supported the OOO Farms' Wild Food Festival since last year and has extended a lot of love and camaraderie to the OOO Farms Movement. 
This year, the Wild Food Festival has found its home at the Don Bosco College of Hospitality Studies in Kurla, Mumbai. This unique collaboration fosters cultural exchange and enriches the learning experience of culinary students to appreciate the value of indigenous foods, their consumption and the importance of their preservation.
The OOO Farms' Wild Food Festival 2023 aims to create a space where city-dwellers, students, tribal community members, domain experts and food enthusiasts can come together, learn from one another, and collectively celebrate the rich culinary diversity of Maharashtra's tribal heritage.

OOO Farms is a Social Venture with roots in Sustainable Chemical-Free Farming carried inside #Kalsubai , #Harischandragadh, #Wildlife  Sanctuary & Many Other Regions of the Sahyadris, Supporting Directly and Indirectly more then 2200 Tribal Farmers. We are also working towards Conserving Forests, it's Food & the Tribal Community connected to them.
Come Find Out More About the Rich Food Culture of India at the रान भाज्या मोहत्सव  - Wild Foods Festival 2023.