Mahua Oil / महुआ तेल
Regular price

Sale price

Rs. 250.00
Anti-Inflammatory, wound healing capacities, similar to cocoa & shea butter, high amount of oleic acid, good for cholesterol control, comparable to extra virgin olive oil, emollient properties, good for massage for pains due to rheumatism and arthritis
Used for cooking, frying and as a salad oil, good for massage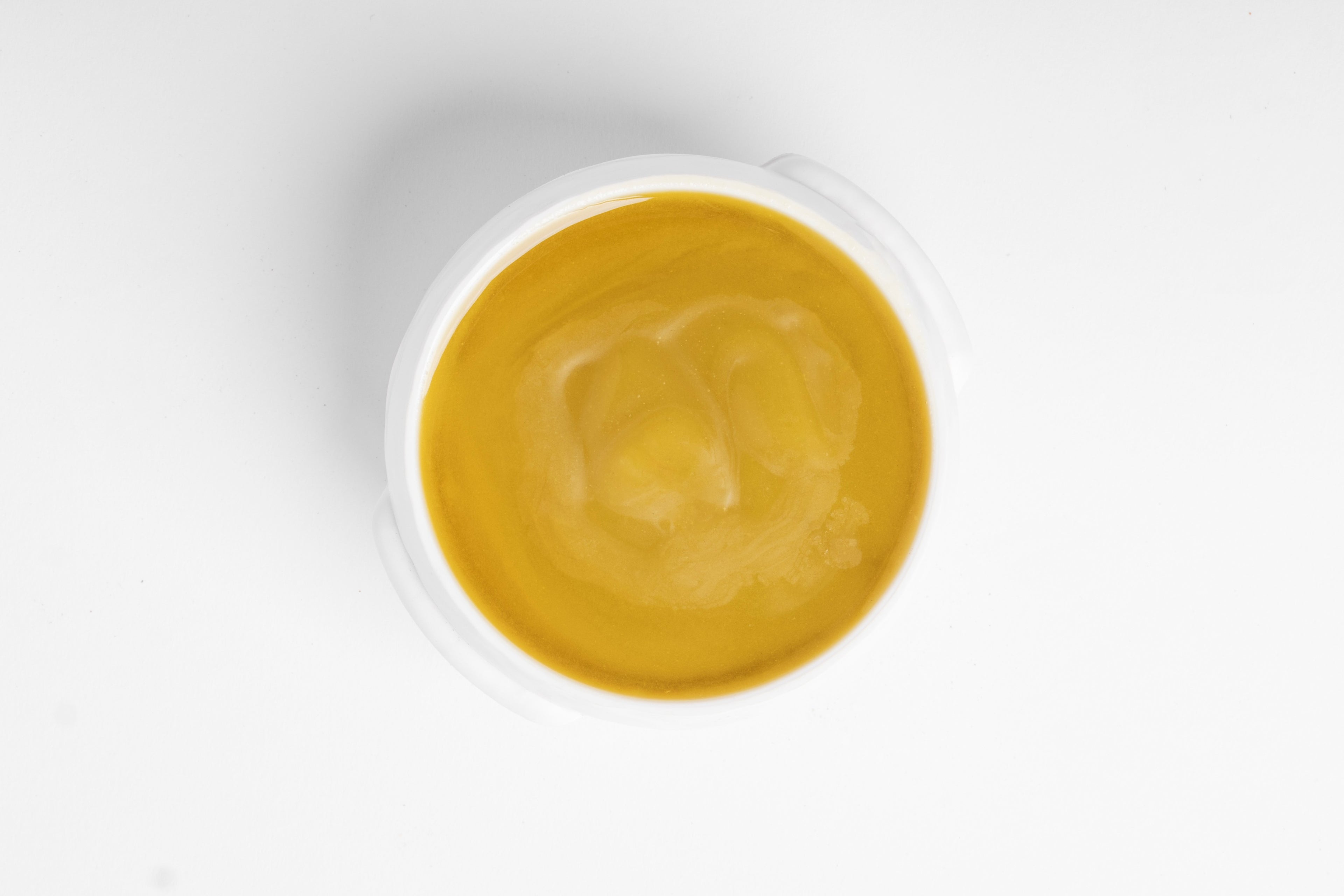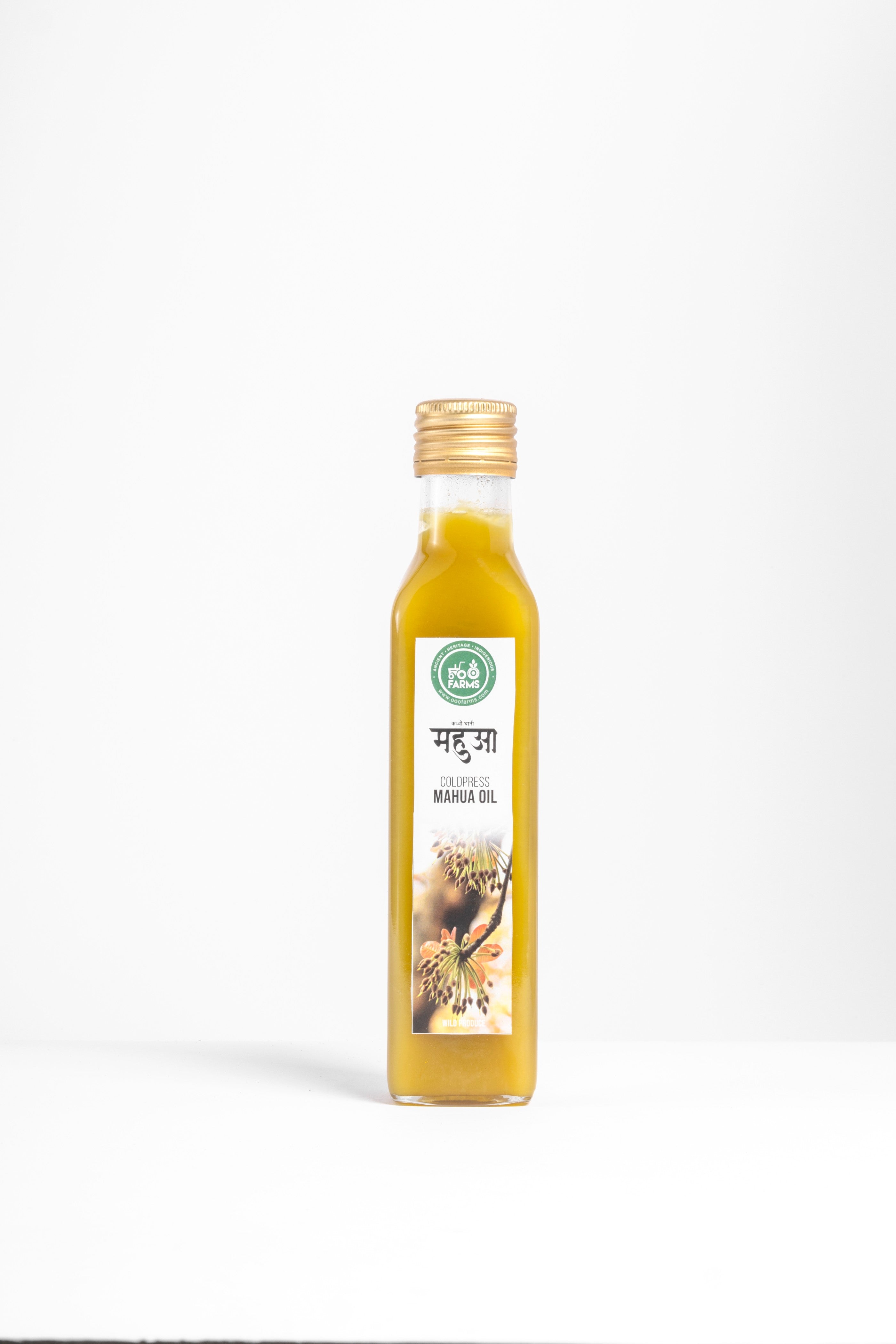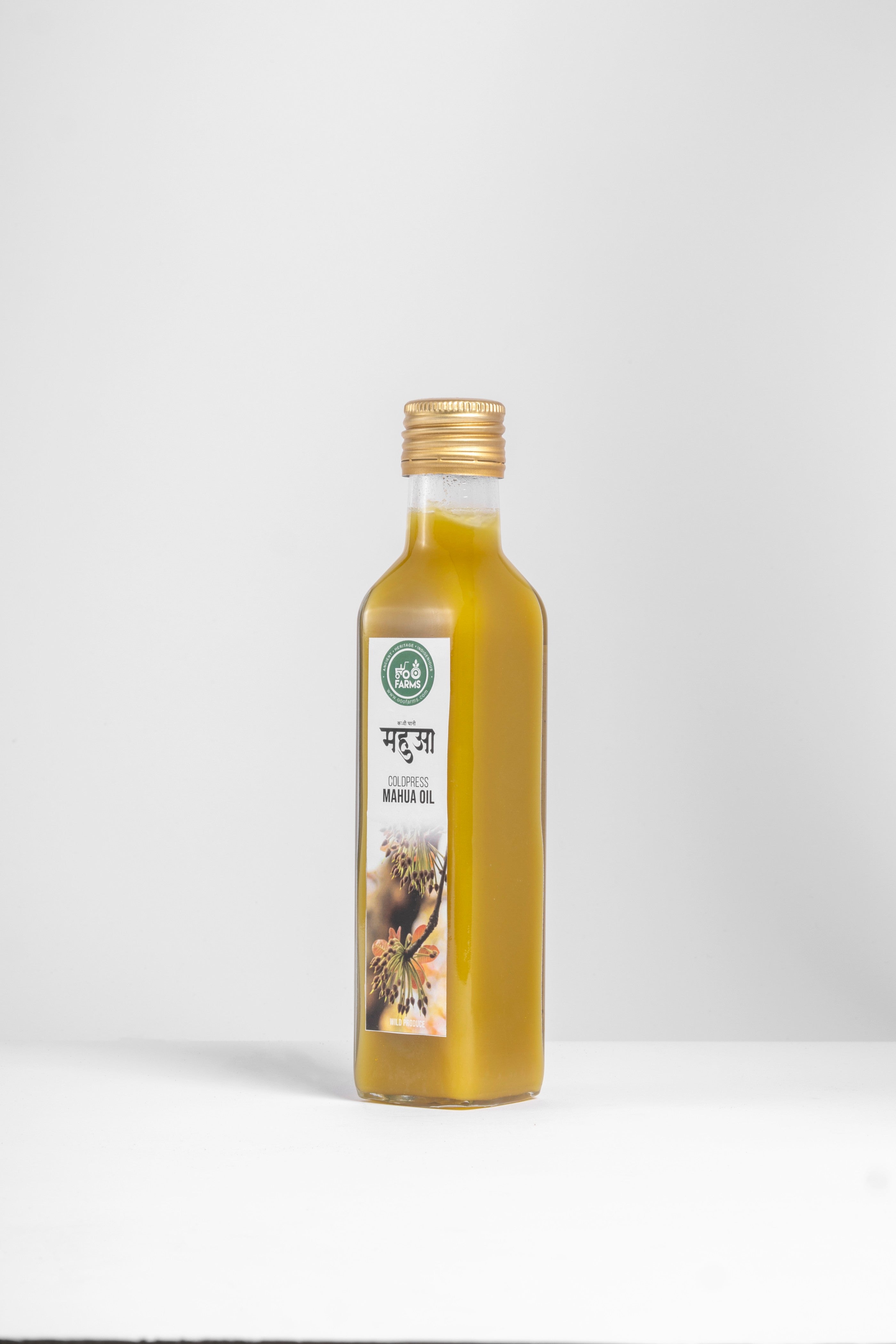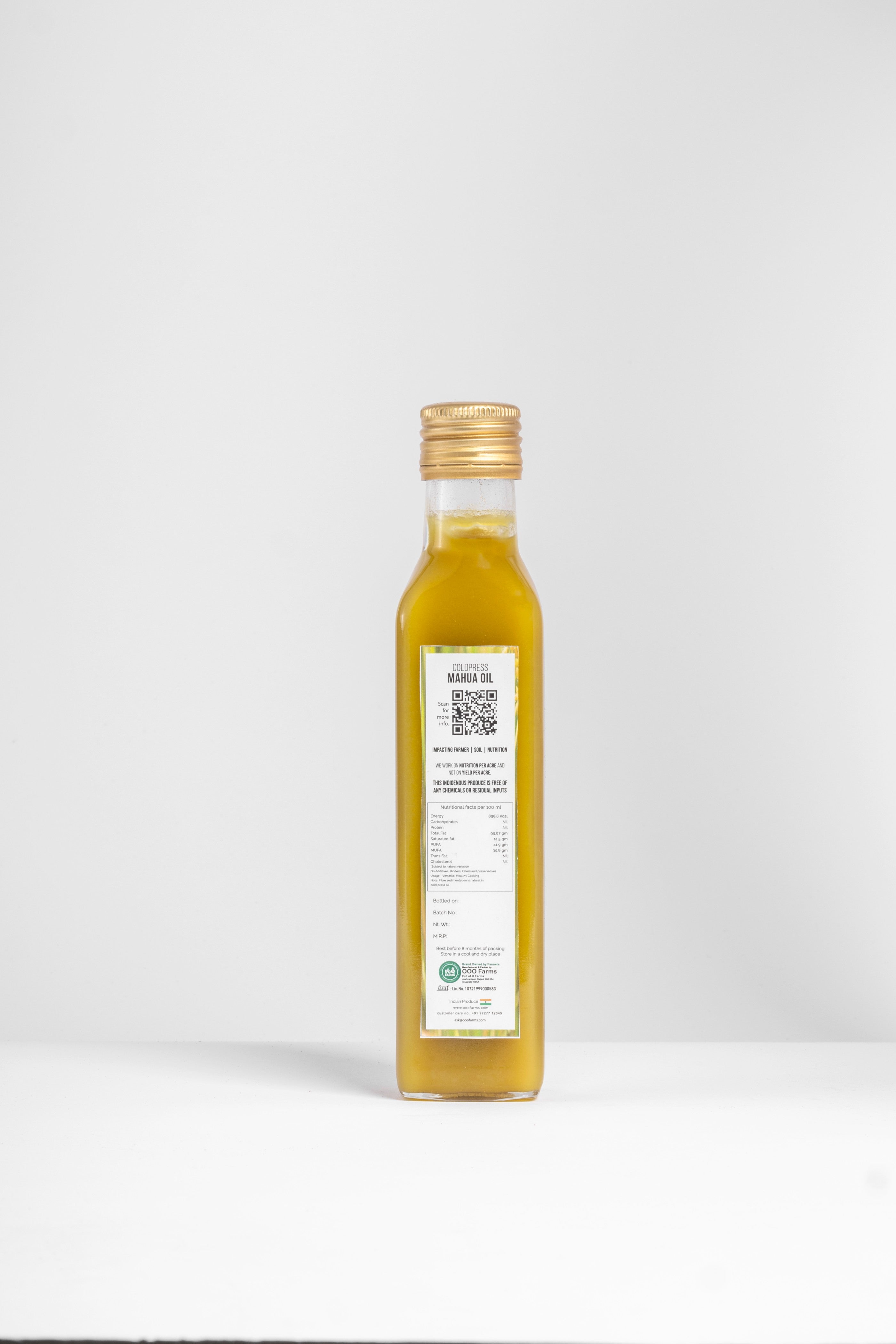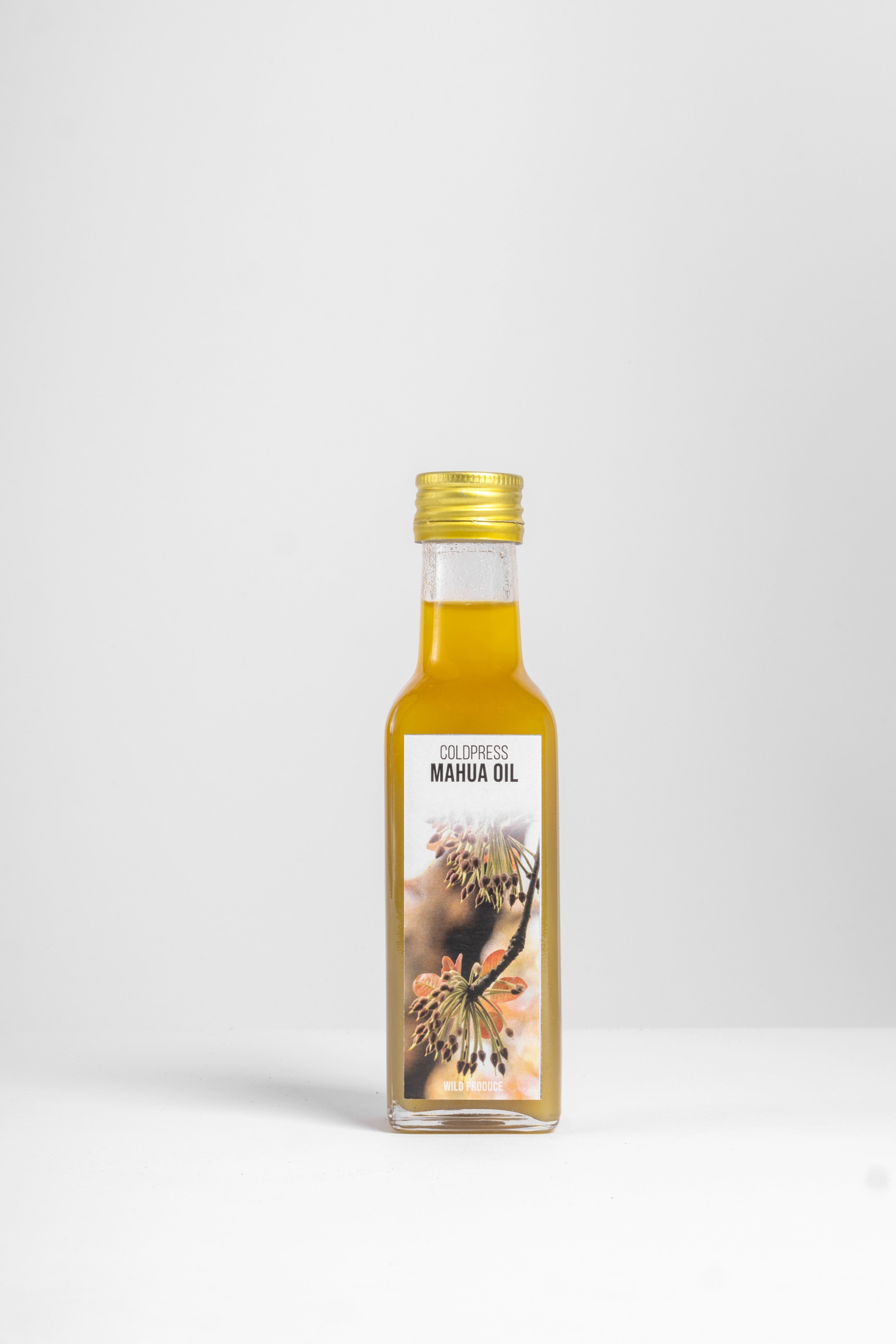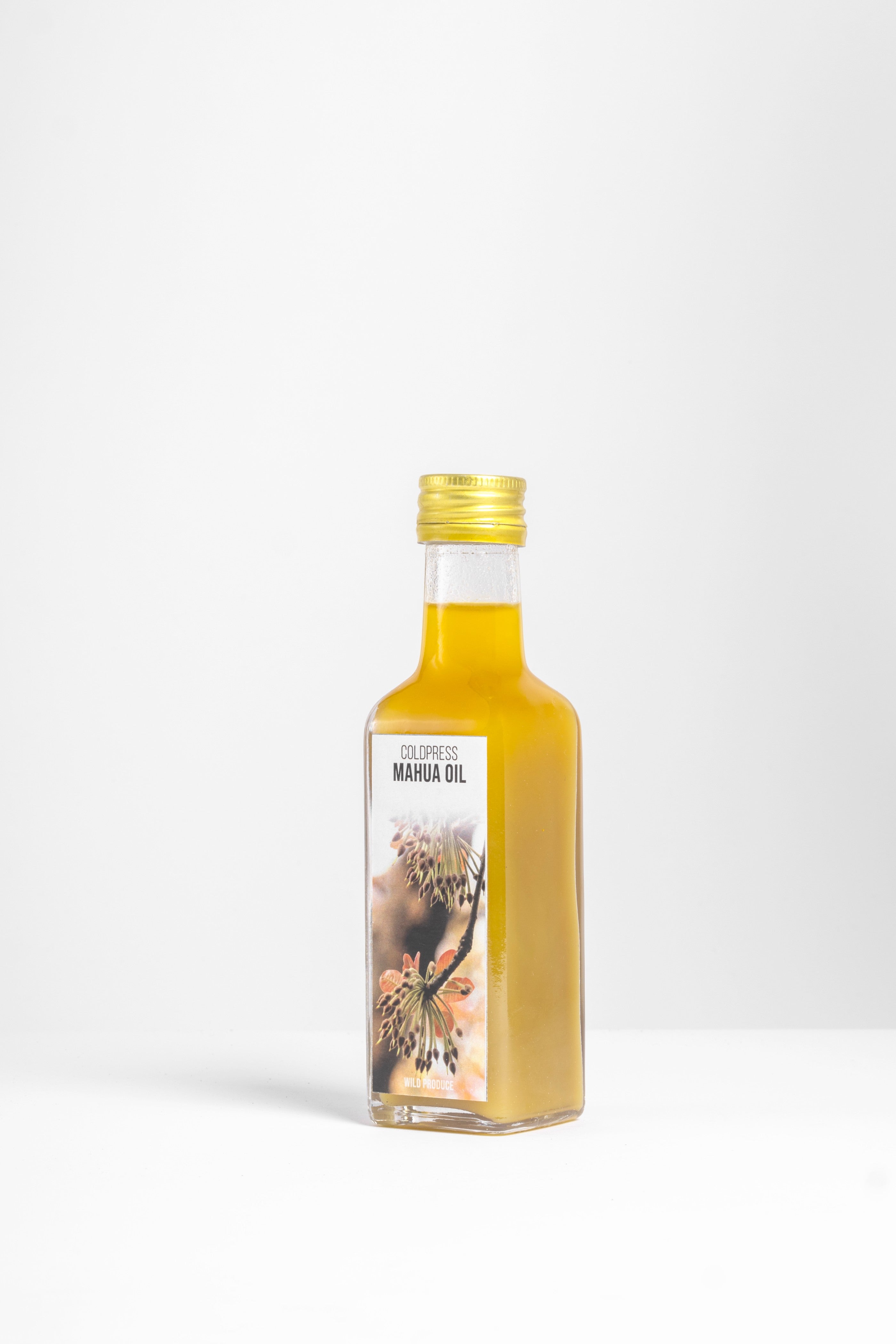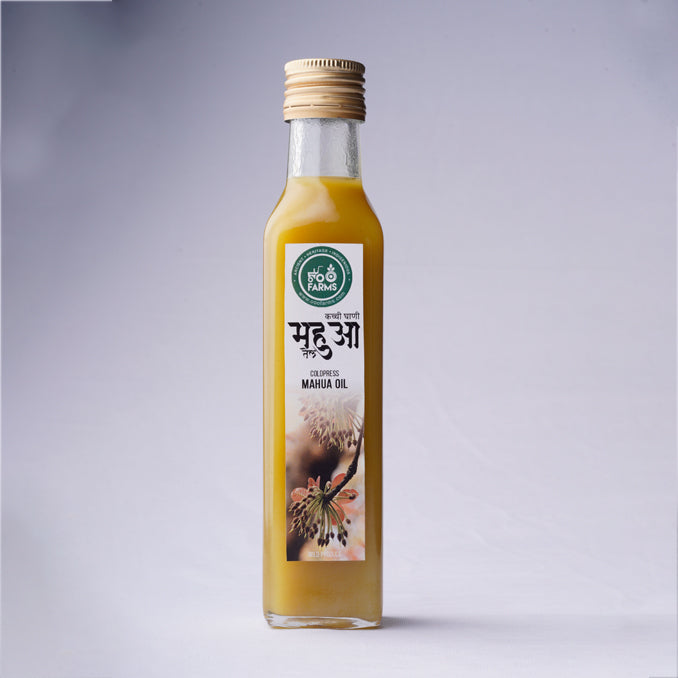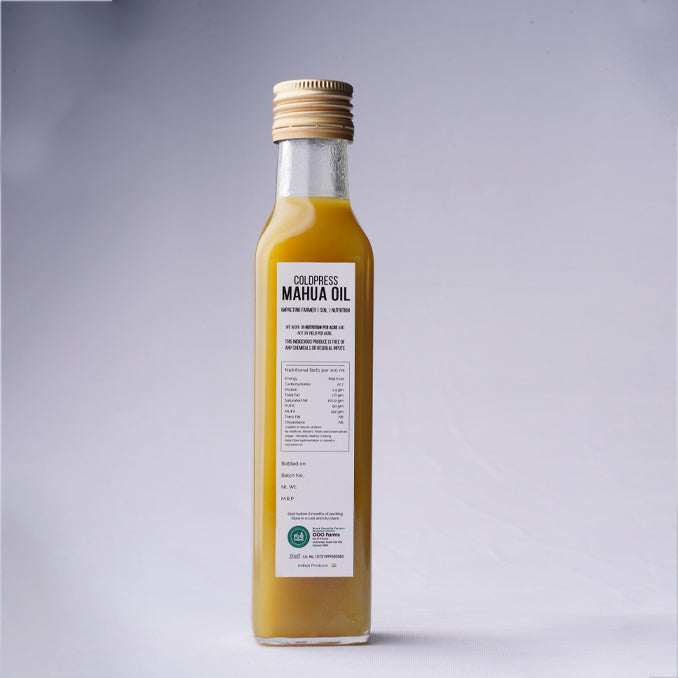 Additional Product Details
Description

Indigenous to India, Nepal, Sri Lanka and Myanmar, Mahua Tree is considered the Tree of Life for the tribal communities of India as it provides food, fodder and fuel.

Mahua Butter (oil) has been used as a substitute for cocoa butter. The semi-solid Mahua Butter is also used for cooking and makes an excellent oil for salads. The Mahua butter also works as an emollient for skin disease, rhuematism, curing headaches, as a laxative and for piles.

Mahua Butter has a higher level of antiradical properties as compared to Extra Virgin Olive Oil. Mahua Butter also has higher levels of natural antioxidants. Mahua Butter has about 37.4% of MUFA and 16.5% PUFA, thus likening it to olive oil and is found by nutritionists to be effective in control of coronary heart disease.

Mahua Butter helps in maintaining good Cholesterol levels.  

One of the tribal communities of Gujarat put a clove of Garlic, with its cover intact, in the Mahua Oil container to counteract its slightly bitter taste towards the end. They also use Mahua oil in lieu of ghee for their cooking. 

Mahua Oil can be used for cooking and frying.
Health Benefits

Anti-Inflammatory
Wound Healing Capacities
Similar to Cocoa & Shea Butter
High Amount of Oleic Acid
Good for Cholesterol Control
Comparable to Extra Virgin Olive Oil
Emollient Properties
Good for Massage for pains due to Rheumatism and Arthritis
Recommended Usage

Mahua Oil can be used for cooking, frying and as a salad oil
Good for Massage
Commonly Known As

English: Mahua Oil / Butter
Hindi: महुआ
Marathi: महू / मूव्हडा
Gujarati: મહુડો
Tamil: இலுப்பை
Telugu: విప్ప
Malayalam: ഇലുപ
Kannada: ಇಪ್ಪೆ
Punjabi: ਮਹੂਆ
Bengali: মহুয়া
History

Indigenous to India, Nepal, Sri Lanka and Myanmar.

For the tribal communities of India, Mahua is the Tree of Life, as it provides food, fodder and fuel. In Gond mythology, the flower is imbued with sacred characteristics. "Iruk Pungar anant hai"" (Mahua flower is immortal). This is because unlike other flowers, they never dry to death. Mahua flowers comes back to life when put in water no matter
how long it has dried.

Mahua tree is the sacred tree of various temples in South India. The Tamil saint-philosopher Valluvar is believed to have born under an iluppai tree
within the Ekambareshwarar Temple at Mylapore, and hence madhūka remains the sanctum tree of the Valluvar shrine built within the Ekambareshwarar temple complex.

Wine prepared from Mahua flowers finds mention in several Hindu and Buddhist literature works. ""Kali who is seated on a red lotus in full bloom, her beautiful face radiant, watching Mahākāla, who, drunk with the delicious wine of the Madhuka flower, is dancing before her."" - Mahanirvana Tantra.