Stony Ambemohar Rice (Unpolished) / स्टोनी आंबेमोहोर
Regular price

Sale price

Rs. 100.00
Bone healer, stomach & gut healing, diabetic friendly, weight loss friendly, instant energy boosting weakness recovery, lactating mothers, pregnant women, good source of zinc & sodium
Suitable for daily-use, pulao, vaangi bhat, porridge, rice noodles, papad, bhakri, doodh bhat, dosa-idli, khichadi, masala bhat & pongal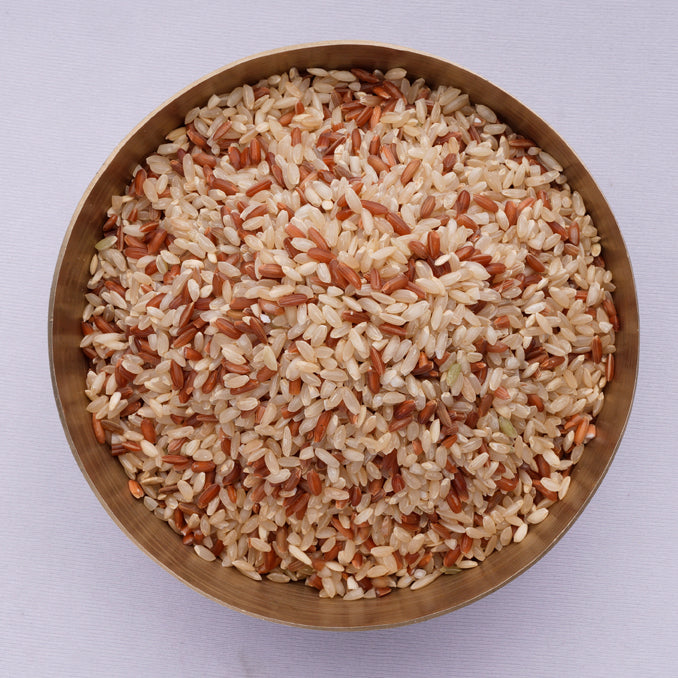 Additional Product Details
Description

Stony Ambemohar is one of the most nutritionally rich rice varieties from Maharashtra. It is an aromatic, small, bold grain rice, very similar in look to Ambemohar.

According to indigenous wisdom, Stony Ambemohar is a Bone healing rice. It is also considered as an Energy Recovery rice and effective when had during fevers. It is thus known as immunity rice


Rich in Calcium, Stony Ambemohar is very good for bone health, especially for patients with Osteoporosis and other bone related disorders. Strong Iron content makes it a great rice for iron deficiency. 


Stony Ambemohar helps improve Muscle and Nerve functioning due to high Sodium content. High Zinc content helps with malnutrition and improves immunity.

Stony Ambemohar is Great for Diabetes and very good for pregnant and lactating women.

Health Benefits
Aroma
Properties - Geography

GEOGRAPHY : Mountain
SIZE : Medium Slender
COLOUR : Brown & Red
Size
Colour
Cooking Instructions

- Soak for 3-4 hrs and then drain the water
- In a thick bottom pot, Boil 3 cups of water for 1 cup of raw rice.
- If soaked, the rice will take 20 mins to cook
- If unsoaked, the rice will take about 40 mins to cook

* Do not wash the rice too much
** You can use the soaked water as a rinse for hair
*** Use an Open Vessel instead of a Pressure Cooker to maintain the aroma

Recommended Usage

Congee
Kaduwal Kalwan - Bhaat (Traditional Recipe)

Commonly Known As
History
Tribal Wisdom

Bone healing rice
Energy recovery
Effective when had during fevers; thus known as immunity rice

Traditionally Famous For

Immunity boosting
Bone healing